Premium T-Shirt Blanquilts
The Gift They'll Cherish Forever
Guaranteed Christmas Delivery Still Available!
SHOP NOW
The Highest Quality Blanquilt™ in America!
Every Blanquilt™ is custom-made with love in the U.S.A.

Using the front, back, or both sides of your t-shirts and minky-fleece backing 5x softer than traditional fleece, American Quilt Company manufactures the highest quality t-shirt quilt in the industry, period. 

Each Blanquilt™ order includes our FREE Prep-Kit delivered right to your door, making our process the easier, faster, and more convenient than anyone else. No cutting, printing, or hassle required. Best of all? NO hidden manufacturing fees.
Remember, your finished Blanquilt always ships FREE to you!

Custom sizing options also available. Call for more details!
Our simple 3-step process
CHOOSE YOUR BLANQUILT™
Order online and choose your t-shirt square size, Blanquilt™ size, and the color of your soft, premium, minky backing.
USE OUR FREE PREP-KIT
After you order, we will then send you our free prep-kit which includes everything you need to prepare and send your material to us. Each kit is Patriot Protected™ - which means our included shipping bags are fully insured, trackable, and water resistant.
UPHOLD YOUR LEGACY
Your t-shirt Blanquilt™ is hand-made in the U. S. of A. and shipped to your doorstep, in as quick as 1-week for FREE after it's completion!
What is a t-shirt Blanquilt™?
What makes our Blanquilts™ the best.
A Fast, Simple Process
We're proud to have the easiest and most convenient t-shirt quilt process in the industry. With our free prep-kit, preparing your shirts has never been easier. No cutting required! No hidden fees!
Our backing is 5x softer!
Other products are made with rough fleece made from plastic. Our t-shirt Blanquilts™ are hand-made with the finest materials available, and feature plush, durable minky backing available in a variety of colors. Nostalgia never felt this good!
Sustainably Made in the USA
5 Billion tons of waste is avoided by recycling t-shirts each year. By purchasing a Blanquilt™, you are keeping your t-shirts out of landfills! Uncle Sam salutes you!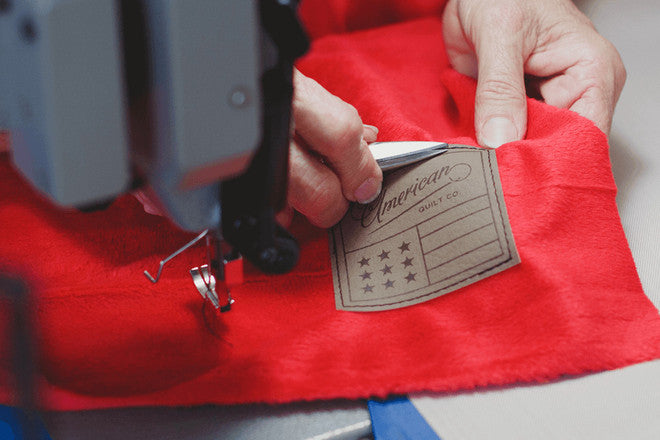 What our customers are saying!
"This product makes you feel good - it's the memories, its the warmth, it's the fact that you've recycled... it's all of those things and more."
– Rachel D.
"I made a patriots blanquilt for my mancave and it's by far the centerpiece. It's huge, it's amazing. It's warm and the build is amazing!"
– Timothy C.
"SO SOFT. Please, if you're considering a t-shirt quilt, look no further. The minky material is so soft and warm that you'll be forever happy you chose AQC."
– Sandra M.

"You'll be in love with the quilt from the moment you get it back from AQC. These are serious blankets - so warm and well made. Well worth it."
– Kathy B.
What an amazing company! The customer service is superb and the blanket is beautiful. I had some issues on my side and this company was accommodating. You actually get to speak to a person when you call. They even called me when they had questions. I would highly recommend AMERICAN QUILT COMPANY. I had them do 2 quilts! They have a customer for life!!! Thank you to all involved.
– Kristin E.
"Thank you so much for the beautiful quilt. It is a treasure of T-shirts and onesies from our grandchildren. You are all amazing!"
– Anne F.